Click here to read the latest certified testimonials by parents regarding Dr. Purvi Zavery and the practice. We are grateful for so many positive comments and feedback. We are happy to have made a positive difference in children's dental health and created a lifetime of healthy dental habits.
You can also find reviews about the practice on Yelp.
We were also rated "Best of the Best" by the Bay Area Parent Magazine.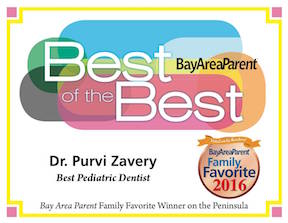 Below is a sampling of additional parent testimonials provided to our office.
---
5stars Sayler H Customer since 2013
My kids run into the examining room when it's their turn. That basically speaks volumes to the experience we always have. "Dr. Purvi" as my kids call her is knowledgeable, compassionate, patient, and fun, everything we need in a dentist. TV screens are a fun treat, too.
George A Customer since 2012
I wish they had hearts instead of stars to rate her. Dr. Zavery and her entire staff are amazing. She is so patient, gentle and I like how she involves me, as the parent, explaining things and showing me how to watch for changes in my son's mouth. She really does a fantastic job of being thorough.

She has a high level of compassion for her patients and their family.
Elsa S Customer since 2016
My daughter had a great visit! We arrived early. There were toys in a play area which helped her get used to her surroundings. Then Dr. Purvi came out and went over what the 1st dentist appointment was all about. We walked to the dentist chair. She showed my daughter how the chair worked. She spoke to her in a nice tone and in full sentences. My daughter really trusted her. Don't get me wrong, she was nervous, but b/c the doctor was so friendly and described everything and showed her how it worked before she used it she was much more at ease. There is even a TV playing cartoons above the chair. There was a toy drawer which my daughter picked out a dinosaur and has been playing with it ever since! It was a great 1st appointment!
5stars Charles F Customer since 2014
Dr Zavery and her staff are awesome with our 2 and 4 year old boys! The office environment and her friendly, relaxed demeanor puts them at ease. My shy 2-yr old actually let her do a cleaning on his first dental visit. They got so excited to pick out a prize from the treasure chest at then end of the visit :)
5stars Lincoln G Customer since 2013
Thank you Dr. Purvi for another excellent visit! My kids have been motivated to floss after our last visit. They love going to the dentist and we are very thankful for you!
5stars Nalin V Customer since 2015
Another successful visit! The kids love coming here for their cleanings.
5stars Varun K Customer since 2012
Dr. Purvi is always thorough, never rushes and takes time to explain every step. She helped calm our daughter and did a great job with the extraction!
5stars Anonymous Verified customer
My boys are treated so well that they have no fear of the dentist and look forward to flossing!

Thanks Dr. Zavery and Staff
5stars Colbie G Customer since 2015
I'm SO impressed with how Dr. Purvi and her team handle our sensitive, shy girls. She is incredibly thoughtful about how she puts her schedules together, ensuring families are rushed nor having a busy, overwhelming office.
5stars Erik D Customer since 2012
Great dentist. My kids love going there. Since I'm still nervous now about going to the dentist myself because of bad childhood experiences, I appreciate that fact that my kids don't have that at all. Dr. Zavery is super nice with the kids, and the fact that they have Tv screens over their heads makes it a fun experience as opposed to a traumatizing one.
5stars Anonymous Verified customer
Dr. Purvi and her assistant are great! They make my son feel welcomed every time and looking forward to his next visit.
5stars Fotini M Customer since 2010
Warm, gentle and professional staff. Dr Zavery is great!

My daughter loves going there :)
5stars Aidan H Customer since 2013
Excellent experience as always
5stars Keilin V Featured review
Dr. Purvi was able to fill my daughters tooth with just laughing gas and no shot. It all went very smoothly and quickly.
5stars Anonymous Verified customer
Dr. Zavery is wonderful with both children and parents. Would recommend her in a heartbeat.
5stars Owen T Customer since 2013
No waiting time. Personnel are professional.
5stars Aria K Customer since 2016
Excellent care provided by Dr Zavery. She is so good with my kids and they love coming to her office. It's a great dental office for kids, not scary at all. My girls actually enjoy their teeth cleaning and coming to the dentist is not frightening. This is a great place for kids to be introduced to dentistry and not be fearful. We are very happy with Dr. Zavery and she will be our girls dentist for years to come!!
5stars Anonymous Verified customer
Everyone (the receptionists, hygienists, Dr. Zavery) was all super nice and friendly. Dr. Zavery took the time to answer all of my questions. I wish she would see adults, too! I highly recommend her.
5stars Luca C Customer since 2013
We love Dr Zavery and her staff! My kids look forward to going to the dentist!!!
5stars Gia S Customer since 2015
Dr Zavery is kind, caring, and my toddler daughter is not scared of the dentist because of her chairside manner. I'd recommend her to anyone.
5stars Alexander C Customer since 2015
Dr. Zavery's staff is very friendly and knowledgeable.
5stars Brody L Customer since 2011
Dr. Zavery and her staff are always gentle, kind, realistic and very communicative. With three kids as patients, I have been going to her office for over 8 years and she has ALWAYS been on time. We have had at least 2 dental emergencies over the years and she has been dedicated to solving the issues as though my kids were her own children. We are so lucky to have found her!
5stars Arran H Customer since 2013
A+++, Dr. Zavery is fantastic!! My boys love going to the dentist.
5stars Lola W Customer since 2012
A great educational visit as always!